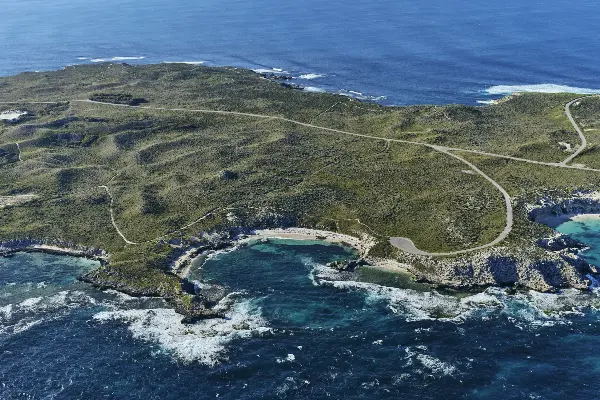 The island story
Lying just 19 km off the coast of Fremantle, Wadjemup / Rottnest Island sits so tantalisingly close to the mainland that it can be seen on the horizon, glimmering across the water.
And while it's a favourite holiday destination for both local and international travellers, Wadjemup's history goes back a lot further than you might think.
Wadjemup in numbers
The island lies 19 km from Fremantle Port, 33 km from Perth, and 22 km from Hillarys Boat Harbour.
A marine paradise, visitors can explore 63 of the most stunning beaches you'll find in Western Australia. 20 beautiful bays border the island, brimming with sea life, with over 135 species of tropical fish and numerous species of coral to observe.
A haven for swimming, snorkelling, boating, and cycling, island visitors can explore 45 km of walking trails and 22 km of cycling paths and roads.
Despite its expansive feel, however, it's not a big island—it measures 11 km long by 4.5 km wide, and 19 km2 in area, with its highest point sitting just 45 m above sea level.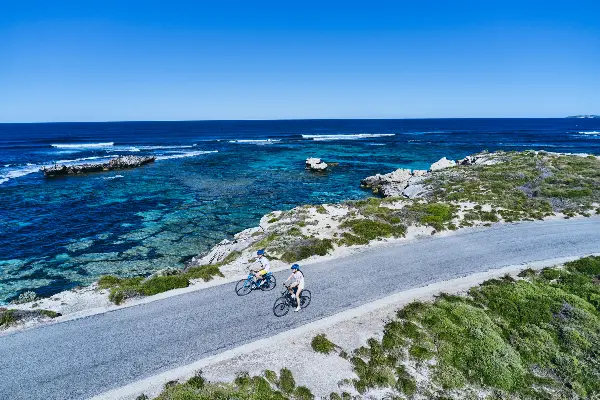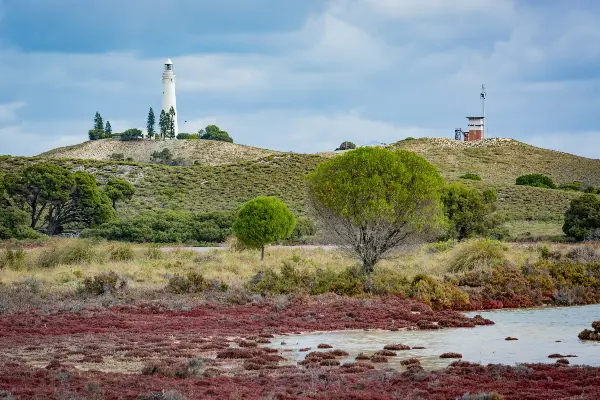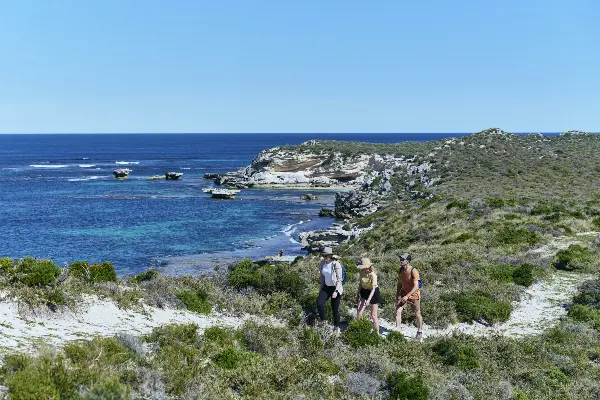 A story told by the land itself
While seemingly alone in the ocean, the island is actually part of a chain of limestone islands and reefs on the continental shelf off the west coast of Australia.
The largest of the chain, this limestone plays a large part in its current character, and Wadjemup is famous for its limestone headlands and bays, with white sandy beaches. Its coast is fringed with unique shoreline platforms — like at The Basin — and offshore reefs, which provide excellent diving opportunities.
The geographic features on Wadjemup tell a story spanning back far beyond human occupation, with much of the rock found on the island playing particular geological significance.
At the hypersaline lakes, fragile microbialites can be found on the shoreline. While they look like reef and rocks, they're actually living things, made up of millions of tiny microbes. Three different types can be found around the lakes: stromatolites, thrombolites, and leolities, some of which may be up to 1,000 years old. The island's West End is dominated by a different kind of rock, Tamala Limestone. It's a fascinating example of the changing oceans over time, and is dated back approximately 140,000 years — when the sea level was almost 130 m lower than what it is today.
The coral reef at Fairbridge Bluff also hints at evidence of ancient sea levels, and how seas have risen and fallen over time. These fluctuating sea levels have created some of the island's key features, such as the inland salt lake system.
At one point, these shallow salt lakes were a large series of deep caves. Over time, both rain and groundwater dissolved the roofs of the caves, causing them to collapse. As sea levels rose, the caves were flooded, and this seawater remained trapped in what are now the 12 salt lakes.
How Wadjemup was formed
At one point in time, in fact, Wadjemup wasn't even an island — it was connected to the mainland by a belt of sand dunes.
It was during a period known as the Last Glacial Maximum (LGM), when almost 10% of the earth's surface was covered in ice. Not Australia, though: sea levels were at their lowest, and Wadjemup formed part of an expansive coastal plain that was divided by the Swan River.
Aboriginal artefacts found on the island suggest that it was inhabited by the Whadjuk Noongar people up until around 6,500 years ago. At this point, temperatures post-LGM began to increase, causing the sea levels to rise. This disconnected the island from the rest of the mainland.
Cultural and scientific evidence suggests that once this land bridge was submerged, Wadjemup remained completely uninhabited by the Whadjuk Noongar people. Without boats, Noongar people weren't able to journey back to the island, and it lay dormant across the waves for thousands of years.
The plant and animal population flourished, giving rise to the famous population of quokkas, or kwoka in Noongar — the lack of predators has helped them thrive.
Lying just off the shore, the island plays an important part in Noongar cultural beliefs, too. The Whadjuk Noongar people are the Traditional Owners of Wadjemup, and their name for the island is sometimes referred to as a place across the water where spirits go.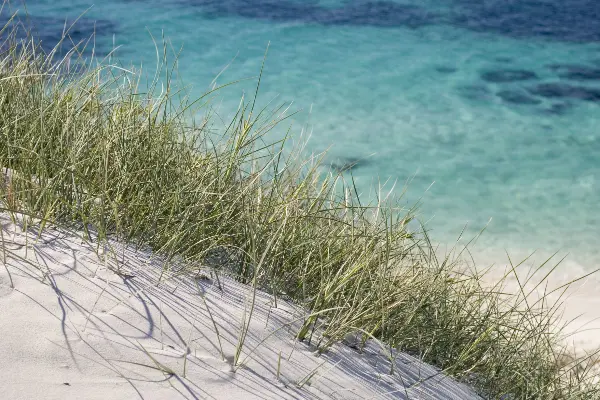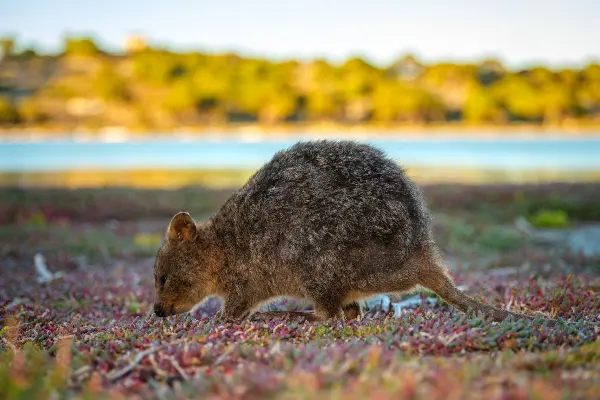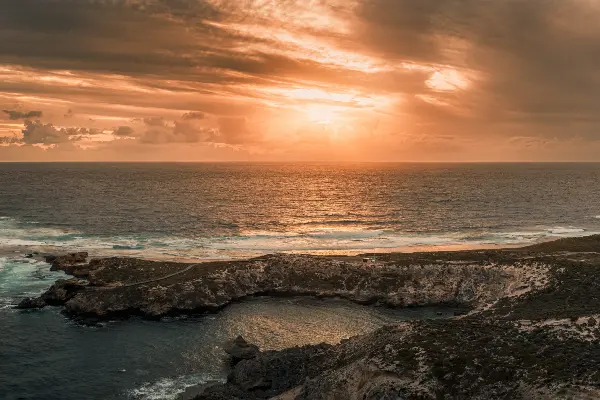 Protecting the land
Wadjemup is just far enough from the mainland shores that it feels like a world away. Its flora and fauna help to achieve this, which is why preserving Wadjemup's animal, plant, and marine life population is so important.
Being mostly car-free helps to keep the animal population safe. The high percentage of cyclists ensures their environmental footprint is kept to a minimum. And the Marine Sanctuary Zones around the island ensure there are places for fish and sealife to be protected.
As a Class A Reserve, the island works to preserve and protect its natural beauty, and these measures all ensure the stewardship of the island for generations to come.
Inviting weather, all year round
Wadjemup is lucky to enjoy a Mediterranean-style climate. But it's not quite like the mainland.
During the hot summer months of December to February, the island is usually a few degrees cooler than Perth, with average temperatures hovering around the mid-to-high 20°C. Interestingly, this means that it's warmer in winter. From June to August, you can typically expect to find Rottnest Island a few degrees warmer than Perth, with an average daytime temperature of 19°C.
Despite being further out in the ocean, the water is also surprisingly warm. This is thanks to the Leeuwin Current, which flows along the west coast of Australia, creating sea surface temperatures of around 23°C in summer and about 18°C in winter. This allows tropical marine species, such as coral, to live around the island, while also making it much more inviting to wade into the water and enjoy the vast range of aquatic activities the island is known for.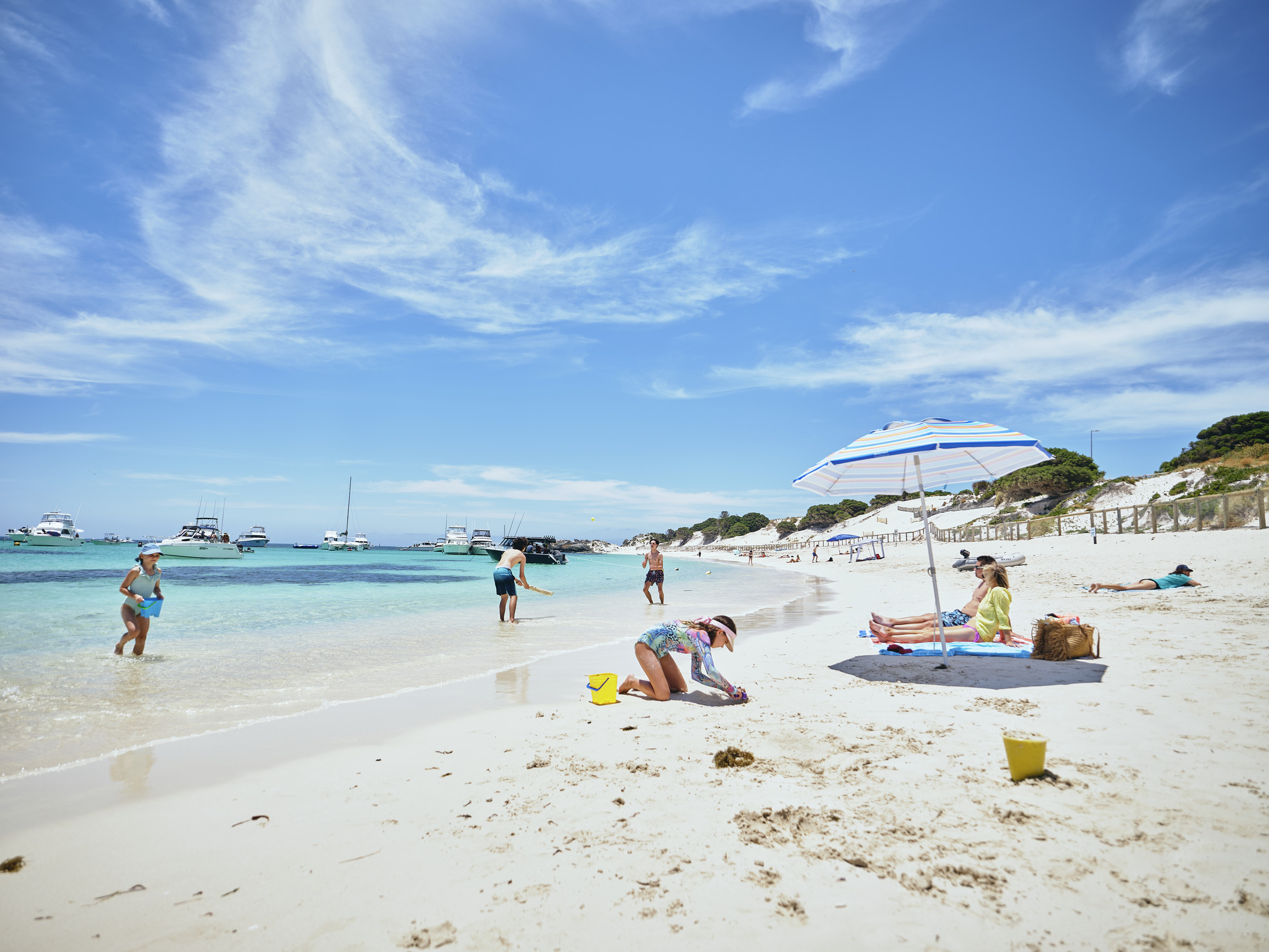 A brief history of tourism
With the lure of bright white beaches, striking turquoise water, and gorgeous temperate weather, it wasn't long before the island became a tourist destination.
1902 saw the first ferries carry tourists to the island — but only on Sundays. The first public jetty was built in 1906, just to the south of Thomson Bay settlement where the Army Groyne stands today.
It was 1907, though, when the island became a recreation and holiday destination. It's a role that the island has played ever since, only shutting to the public in wartime, in 1914 and from 1940–1945.
The surfing boom in the 1950s brought even more visitors to the island, and it became a surfing hot spot, known for its long, rolling barrels.
It wasn't always a holiday destination
We acknowledge that Wadjemup's history can be particularly distressing.
Following European discovery and settlement, the island began a sorrowful chapter, with the construction of the Rottnest Island Aboriginal Establishment — an Aboriginal prison and forced labour camp that incarcerated 3,700 Aboriginal boys and men over its 93-year lifespan. A sordid time in the island's story, it's one that can't be ignored.
Visitors to Wadjemup can learn more about this history at Wadjemup Museum. With a range of exhibits that tell the rich, complex, and often uncomfortable history of the island, it's a place to stop, reflect, and understand what has come before you.